Shrouq Kittaneh– Shrouq for Graphic Design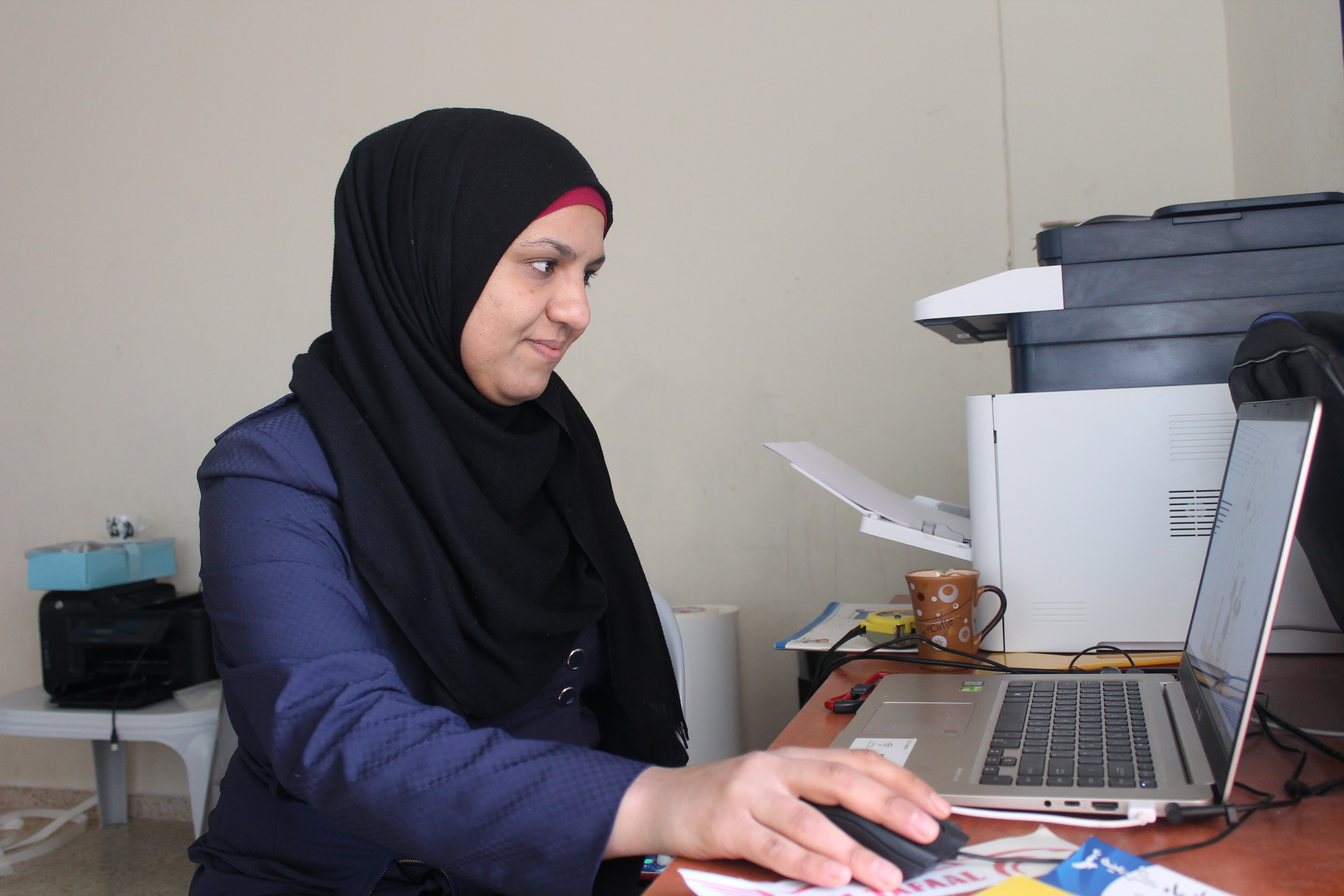 Shrouq Kittaneh "Um Rafat" is a widow and a mother of a baby boy and baby girl. She holds a degree in Graphic Design and has an experience of 10 years in this field.
About the project and how she involved in it, Shrouq says"
"After my husband had passed away, I resigned from my work, which was in a private office, so as to fully take care of my two children. But I always had nostalgia to go back to work, especially that my passion and affection to graphic design was great. During the two years of my disruption from work, I was always reading and following up on developments in the world of graphic design.
The Ministry of Social Development communicated with me and told me about the mechanism of the "Steps" project. I liked the idea and participated in a training course provided by ACAD. I greatly and distinctively benefitted from this training as it instructed me on how to start and manage an enterprise.
After I prepared the work plan for my enterprise, which I called "Shrouq for Design" including all needs to start, I obtained a grant of $3,030. With the assistance and supervision of ACAD team, I bought all equipment and devices needed to start my enterprise. On September 1, 2018, I started the work in my enterprise. I allocated a room in my home for work where I put the devices and equipment. I wanted to work from home so as to be near my children.
Since the beginning of the enterprise, I designed work cards, stickers and brochures in addition to printing researches for university students.
I am very happy with this experience and for my participation in the "Steps" project because it motivated and encouraged me to return to work and have my own enterprise. Also it is worth mentioning that the wonderful love and help of people, including my family, neighbors and my previous work members, contributed to the success of this enterprise. I should also mention the help I received from the suppliers who supplied me with the printing machines and helped me in using them especially that those machines were modern and I didn't use them before. Also I received support and encouragement from my friends who participated with me in the training course implemented by "Steps" project. It is nice to mention here that I designed and printed a work card for one of this project's participants who opened her own enterprise "Karmieh Fashion".
My future ambition is to open an office for graphic design with more advanced devices and machines that help me to expand and develop my work".